Four Indigenous Peoples in Mondulkiri Province Ask Court to Drop Charges
Following a lawsuit brought by a private company, four Bunong indigenous people who are active in land and natural resource protection have urged the court to dismiss the charges against them.
According to the complaint filed by Kak Ratana, who claims to be the director of Villa Development Co., Ltd., Mr. Eang Sokun, Representative of the Mondulkiri Provincial Prosecutor's Office, summoned four indigenous peoples, including Mr. Kroeurng Tola, Ms. Phloek Phirum, Ms. Phloek Nary, and Mr. Khleng Tum, to appear on the afternoon of June 7, 2022 for "
Phloek Phirum, Mondulkiri's Indigenous Network Coordinator, told VOA Khmer that the court questioned them for hours yesterday about the charges before allowing them to return home because no decision had been reached.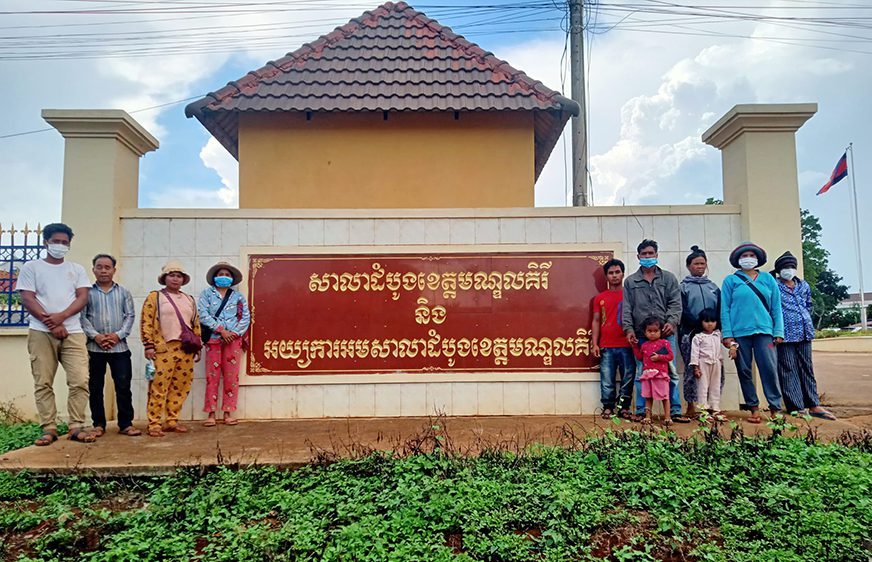 "She and other indigenous representatives requested that the accusations against them be dropped during the trial because they did not do the wrongdoing," she said.
Ms. Phloek Phirom stated that the complaint was brought after they protested to a representative of Villa Development Co., Ltd. named Kat Ratana about how she used a bulldozer to demolish Indigenous peoples' forest and land.
She said that a company called Kat Ratana had bulldozed many hectares of forest land and indigenous lands that had been enjoyed since 1988 in Laoka village, Sokdom commune, Sen Monorom city, with no action from the competent authorities.
On March 21, 2022, indigenous representatives filed a lawsuit against two local officials, including Sokdom commune chief Pov Sophat and Laoka village chief Kim Sim, as well as the director of Villa Development Management Co., Ltd., Ms. Kak Ratana, for "clearing, encroaching on public forest land, and destroying resin trees in the Phnom Prich Wildlife Sanctuary and favoring forest crimes," but residents claim the court did not act on their complaints.
VOD, on the other hand, was unable to elicit an answer from Kat Ratana on this matter yesterday.
Disclaimer: 
This is an unofficial translation of the original article by VOD Khmer, see the original article: https://www.vodkhmer.news/2022/06/08/mondulkiri-four-indigenous-ask-court-to-drop-charges/?fbclid=IwAR1-Rzkd8ilq7sFrJ3gQSsR-tF8urLA1VjHU5_TgBzMcTwBO96cTBCxXk9E